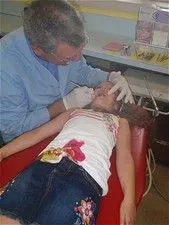 Dr. George M. (Mike) Short, is a long time resident of Jackson, Tennessee. He graduated from Union University with a BS degree in Biology. He then attended University of Tennessee School of Dentistry in Memphis. He received the Granville Sherman Pedodontic Award for his work with children. He was inducted into the Richard Doggett Dean and Marguerite Taylor Dean Honorary Odontological Society and the Omicron Kappa Upsilon Honorary Dental Society, which is awarded to students with high moral character and in the top of their class academically.
After dental school, Dr. Mike completed a two year residency program to specialize in Pediatric Dentistry. During this residency, he received extensive training in clinical, emergency and hospital dentistry and also did extensive work with the special needs patient.
Dr. Mike is passionate about working with children, not only at work, but also outside the office. He coached youth baseball, soccer and basketball for ten years and has served as a youth deacon at his church. He also volunteered for twenty-five years at the Robert J. Smith Developmental Dental Clinic working with the mentally and physically challenged patient. Dr. Mike is a member of the Tennessee Dental Association, American Dental Association and the American Academy of Pediatric Dentistry.
Dr. Mike is happily married to his wife Dianne. They have two sons. Brian, who is also a pediatric dentist in the same office and Clark, who has his Master's Degree in Counseling and is a dental sales representative.
Dr. Mike is very active in his church and enjoys playing golf, exercising and spending time with family and friends at the beach when possible.